I entered a template challenge and while I was getting the basics set up I put in the page a photo of a Pansy I took. I do like pansy's. I rather liked the result so I submitted the layout to the scrap that idea for the template challenge.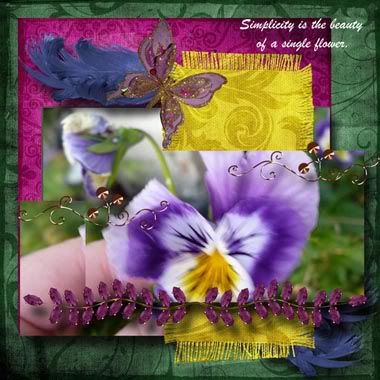 Today I'm looking through the gallery and there are so many layouts with flowers in them. Don't you just hate that? When you do something and you think it's fresh, it's something I haven't done before, and it turns out to be simply one of many? I still like the layout. And I'm in a great mood because we had another hoar frost and the air is warm and crisp and dry. There is still an inch of ice on my front lawn and it's mid afternoon. But hey; what's a little ice for a nice winters day?
I will have a look through the photos see if they are worth posting the ice has a tendency to linger only on muddy areas. Oh well.
And for credits click
here
.