The mission. Take a selection of glass beads and charms Pandora/Murano style and turn them into a charm bracelet which will appeal to a little girl, and at the same time be tasteful enough; that it can grow with her.
The result.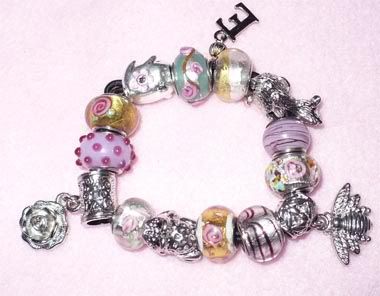 Putting this thing together is a lot harder than it looks. The beauty of these beads is they are versatile in their combinations and colour variations. The problem is one bead out of place sticks out. I am telling myself I'm not touching the bracelet again. But I most likley will. It's hard but addictive. The beads are simply too versatile. It's a bit like a 3d puzzle where you can pop down to the shop if you don't like a piece. And yes I have spares so that it can grow with her.
I was told these beads were only being stocked for a week as part of a store promo. They better be or I'm going to be broke.