First of all I'm sure anyone reads my tiny blog knows about a new designer Marie-France or Marif for short her blog is here. http://poppylium.blogspot.com/
She has just started releasing some very nice kits. So I contacted her and asked could I make few layouts with her new kits and she said yes. Thanks Marie-France.
Her new kit is called
Vinaigrette
. And it's lovely.
Here is the preview.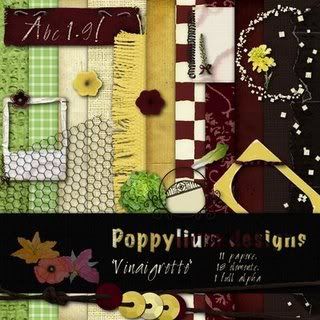 And here are my layouts . It's a cute kit and fun to work with I always find I like the kits with great alphas. I just love kits with Alphas.
The first one is my 3 rouge toms when they were still kittens and cute. I've been meaning to scrap those photos since I took them way back when.
The second is my Daughter playing with a new toy. Ever since Ice Age Two she's been rather partial to elephants and is quite insistent elephants sleep in trees. Hence the title. Elles love trees. It's the name my daughter chose for the toy. We went through all the spellings. It's great way for her to learn spelling but a bit of a grammatical nightmare for me. I think I have added apostrophes in every place I could think of to make the title flow. I should have gone for a different title. Hindsight is a wonder, maybe before I print?.
I will be back later today with a freebie.
Judith